Getting to Know our VP of Sales & Marketing, Shelley Rosdahl
Posted on 03/12/2019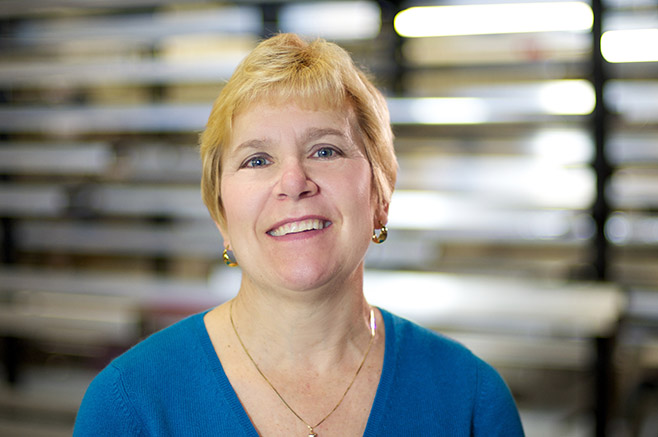 What is your background/how did you get into the sign industry?
I have a degree from K-State in Interior Design. When I graduated in 1982, very few architecture firms in the Midwest had interior design departments. Locally, you could sell furniture or make drapes. Yawn. I could have gone to Chicago, Dallas or Denver, but wasn't ready for that jump. I was working at a floral shop at the time when I saw Star Signs was running an ad for Administrative Assistant. I was hired as assistant to the President, Mike Vickers. I really enjoyed art and design and thought if I started in the office, maybe I could work my way into the design department. My skills seemed to be better suited for customer sales & support, so I moved in that direction.
How long have you been with Star?
I started in August 1988 – 30+ years.
What are you most passionate about professionally? Personally?
I am most passionate about my relationship with clients and how Star Signs can help them create unique signs for their projects. Personally, I focus on being the best person, wife, or friend that I can be.
How does your education connect to your professional career?  What about personal experiences?
My interior design education taught me to read blueprints, learn architectural terminology, and envision finished spaces. This knowledge has been huge in building my relationships with interior designers, architects, and general contractors. I'm not on the team to "sell" them signs, but to enhance their project with good designs.
My work ethic comes from my parents. It's a good and bad thing! My biggest passion in life has been my career.  Sometimes I have sacrificed my personal life for work life, but I have no regrets. I'm getting to the age now that my priorities are starting to change.
What are you surprisingly good at?
What I never thought I would be good at (because I used to be shy) is making impromptu talk about what I do at Star or what Star Signs does.
What's the biggest proof that you're good at what you do?
Sometimes its in the sales numbers, sometimes it's the number of items on my daily task list!  Both show that I am very productive.
What's your biggest accomplishment?
Over my time at Star, I have built many ongoing relationships with people who come to Star Signs because they like to work with me and they trust me. I am very proud of that.
What problems do you consistently solve for your clients?
Coming up with a good solution for how signage can compliment their space or project.   Recommending the right materials to make their brand look the best it possibly can.
Who is your ideal client and why should they connect with you?
A client who is looking for something other than lowest price.  Someone who is looking to work with experts in the sign industry and respects our input. Someone who wants a consultant that listens and comes up with the best solution for each particular project. Star Signs is the best in taking a client's "idea" and making it happen.
What do you think are the best skills that you bring to your job?
Flexibility, industry knowledge, humor, and being able to bring a team together to get the job done.
What's a typical day like for you?
Typical – that is so funny!
Who is someone you admire, and why?
My parents, Sheldon & Corinne Way. They have both passed away, but I have never known two people who led such a wonderful, loving, Christian life. They raised three great kids, had a huge circle of friends, and saw 65 years of marriage together. I wish I would have visited them more often, said I Love You more often, hugged them more often. I hope I made them proud when they were alive.
Do you have any skills or talents that most people don't know about?
I owned a flower shop in Oskaloosa, KS before I started at Star Signs.
What would you do even if you didn't get paid to do it?
Work at a tiki bar on a beach!
If you could be anywhere other than here, right this minute, where would you be? (Don't overthink it!)
Right now, a beach chair and ocean waves sound wonderful.
If we went to happy hour, what would you order?
Rum and diet coke with a lime. It's basically a food group for my husband and I.
Finish this sentence. On Sunday mornings, you can usually find me...
Sleeping in and covered by two orange cats.
Name three words that you describe you.
Likeable, funny, dependable
How do you think your colleagues would describe you?
Ogre, unreasonable, demanding!!
Name a few of your daily habits (other than a shower and brushing your teeth).
Walking or working out, talking with my husband, hugging my cats, cocktail hour!
What are you happiest doing, when you're not working?
Walking by myself in the woods
What do you do with friends in your spare time?
Play golf, sit around the fire pit
What would be your personal motto?
"Breathe in, breathe out, move on"  (Jimmy Buffet song lyrics)
Excellence in Environmental Graphics