ADA Compliant Signs
Star Signs has years of experience producing high-quality ADA signage for both interior & exterior applications. With a wide range of materials and capabilities, we can work with you to find the ideal solution to outfit your facility with ADA compliant signage that complements its surrounding décor.
---
What are my options for ADA compliant signage with raised text & Braille?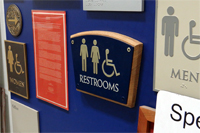 Photopolymer
The process of creating photopolymer signage begins by creating a negative of your sign image and/or text. Once created, this negative is applied to the surface of the photopolymer, which is then exposed to UV light. Once exposed, the photopolymer is simply run through a tap water bath, which removes the exposed areas of the sign, leaving a raised positive image. This material can then be painted, tipped, or screen printed to achieve nearly any color or finish.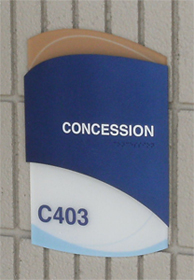 Laser Cut Text + Raster Braille
Another option for raised text and graphics is to use laser cut acrylic and raster Braille. In this case, the text is laser cut from thin acrylic and applied to the sign face with adhesive. Raster Braille is comprised of small spherical beads which are pressure-set into corresponding dimples in the sign face. The advantage of this method is that it allows for a greater variety of materials for the sign face, such as laminates, brushed metal, or other specialty products.
Etched Zinc
Etched zinc signage is a great solution for outdoor ADA signage or any area in which extreme durability is a must. Zinc is an abundant and highly recyclable material which can be chemically etched to produce raised graphics and text. Ideal for areas such as outdoor sports arenas and college campuses, Zinc's ability to resist harsh weather and vandalism makes for a lasting, durable sign solution.
---
Please view our ADA Quick Reference Guide to learn a few quick facts about ADA signage requirements, or visit the Department of Justice website for the full 2010 ADA Standards for Accessible Design Manual.
Excellence in Environmental Graphics