Design + Consultation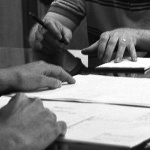 At Star Signs, we have been fabricating and delivering high quality custom signage for over 30 years. We are very familiar with the variety of materials and processes available to create almost any type of sign or graphic display. Keeping up with the ever changing signage industry is challenging, but we pride ourselves in staying informed on the latest technology and trying new processes with each new project.
We assist many designers and architects in the beginning stages of a project. Whether it is material recommendations, finish samples, or budgetary pricing, our expertise helps you to design a project to meet your client's goals and budget.
Excellence in Environmental Graphics